TEXTURED COATINGS OF AMERICA

High-build Architectural Coatings
One of the most technologically advanced coatings manufacturers in the world, Textured Coatings of America, Inc. offers a complete line of decorative and protective high-build architectural coatings for commercial, industrial, transportation and residential applications. Genuine TEX-COTE® products are found on some of today's most prestigious buildings, landmarks, control towers and homes throughout the world.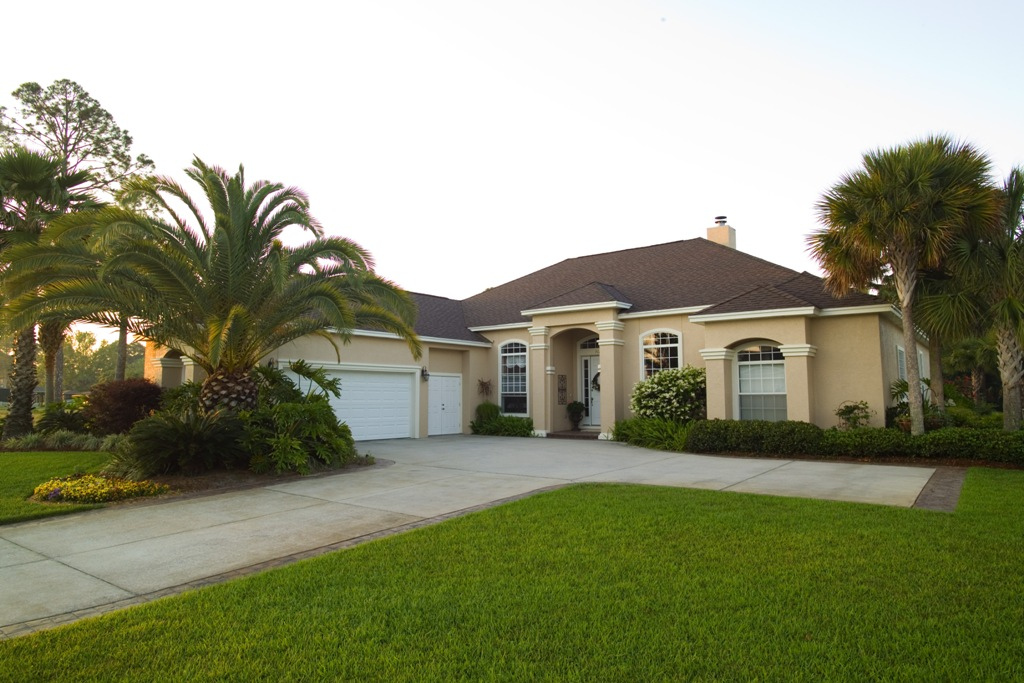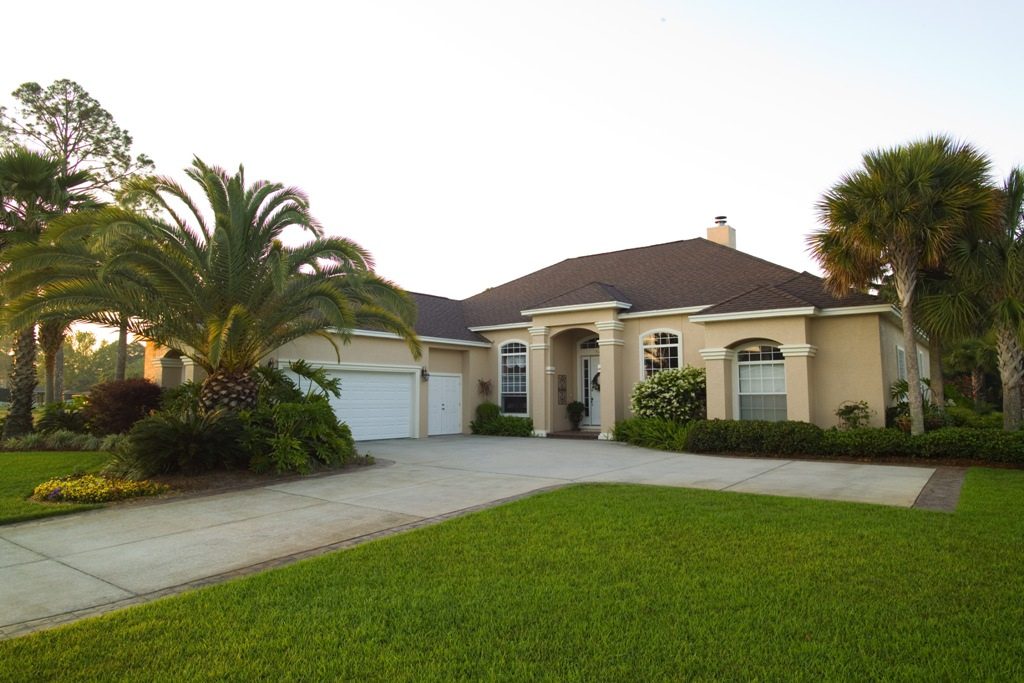 Celebrating its 57th Anniversary, Textured Coatings of America, Inc. was founded in 1961 in Los Angeles, California. Along with the National Sales Office in Ft. Lauderdale, Florida, TCA has manufacturing plants in California and Florida. Distribution points are located throughout the United States, Canada and many other countries throughout the world. TCA continues to add new distribution points regularly, the most recent of which is our new licensee in Dubai.
Textured Coatings of America is one of the leading manufacturers of specialty coatings in the world. Genuine TEX•COTE® products have been used on some of the world's most prestigious buildings, landmarks, control towers and homes. Our products meet the most stringent federal standards for use on military bases which require the coatings to be able to withstand the equivalent of 40 years of exterior exposure.
OUR GREEN STORY
---
At Textured Coatings of America, all of our products are designed to meet or exceed state and local VOC (Volatile Organic Compound) requirements. TEX∙COTE®, a family owned business that has been manufacturing high performance coatings since 1961, is the first paint and coatings manufacturer to be granted a patent for heat reflective wall coatings and incorporate post industrial recycled content into our products.
Our flag-ship product, COOLWALL®, is a revolutionary coating system that helps reduce the impact our everyday actions have on the environment by having extremely low VOC's and can provide cooling cost energy savings*. COOLWALL®:
MOST COATINGS CLAIM TO BE GREEN BY CUTTING VOCs. ONLY COOLWALL®CUTS EMISSIONS THROUGH REFLECTIVITY, UTILIZES RECYCLED MATERIALS, AND HELPS REDUCE COOLING COSTS
Contains heat reflective properties to reduce surface temperatures and can provide for cooling cost energy savings*
Has heat reflective technology that also leads to increased durability and fade resistance due to less expansion and contraction stress on the coating, greatly extending the product life-cycle.
Incorporates post-industrial recycled glass to further increase sustainability.
Has been recognized by prominent LEED™ Accredited Professionals as being worthy of submission for LEED credits in up to three of the six LEED categories.
Can lower cooling electricity usage during peak demand hours, which results in a significant cost savings*.
Allows you to experience lower surface temperatures as a result of increased reflectivity without sacrificing color and visual appeal. Providing lower surface temperatures in all colors not just white.
Uses the same infrared heat reflective technology used by the U.S. military to reduce radar signatures on its planes and vehicles
Works by reflecting much of the infrared light back into the atmosphere, lowering surface temperatures by up to 40 degrees Fahrenheit*
Was tested and proven by the U.S. Department of Energy's Oak Ridge National Laboratory to reduce cooling costs by up to 21.9%*.
Incorporates patented FADE BLOCK™ technology that is virtually immune to the effects of harmful UV radiation, which include degrading paint resulting in fading and chalking.
Textured Coatings of America is dedicated to leading the paint and coatings industry in becoming a true "green" manufacturing company and reducing the impact that we all have on the environment. From incorporating recycled content into our product line, to the cooling cost energy savings that can be obtained through COOLWALL® heat reflective coatings, TEX∙COTE® is dedicated to working towards a more sustainable future for everyone.
HOW COOLWALL® WORKS:
The COOLWALL® with Kynar® IR exterior coating system uses the same heat reflective technology the military uses to reduce the "heat signature" (the solar heat absorbed by planes and vehicles). Much like a military vehicle, your home absorbs heat from the sun too. But unlike the military, your home's enemy isn't another army – it's the escalating cost of electricity.
The COOLWALL® with Kynar® IR exterior coating system has been specially formulated to reflect solar heat by changing the invisible portion of the light spectrum, thereby helping to reflect heat without changing color.
COOLWALL® ENERGY SAVINGS:
On a hot day, the sun can beat down on the walls of your home, and your home can absorb as much as 90% of the radiant energy (or heat)! Even white walls can absorb significant solar radiation. All that heat makes the inside of your home hot and uncomfortable. Running air conditioning to cool your home can be extremely expensive.
In fact, a central air conditioning system uses about 3500 watts, or 3.5kWh every hour. In some areas of the country, cooling even a moderate size house requires over 1500 hours of air conditioning operation a year. Now, COOLWALL® – an advanced exterior coating system – tested by the Department of Energy to lower surface temperatures* – can make your home more comfortable while reducing your use of air conditioning.
COOLWALL® DEPARTMENT OF ENERGY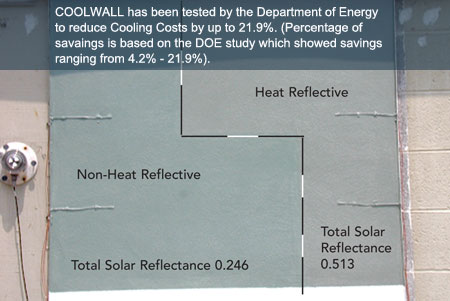 Tests conducted by the United States Department of Energy over nearly a two year period show COOLWALL's ability to save more energy than other exterior coatings. Even ceramic coatings are not nearly as effective as the advanced technology found in TEX•COTE® COOLWALL® coatings. Just look at what the Department of Energy has to say aboutceramic coatings.
TEX•COTE® COOLWALL® exterior coating systems are on average 100% more reflective (in many colors) than the conventional technologies used in all of the competing products.
GENUINE TEX•COTE® PRODUCTS
Genuine TEX•COTE® products include TC100 and Classic. Each system consists of a thin primer and your choice of a thick smooth (Classic) or textured (TC100) finish coat that is both beautiful and extremely durable. During the application process, the primer and finish chemically "fuse" together to form an impenetrable, moisture-proof barrier from the elements. With Genuine TEX•COTE® products, your home is protected against rain, snow, frost… just about anything Mother Nature can throw down. Best of all, it will never chip, flake or peel like paint… eliminating the need for constant repainting!
TEX•COTE® CONCRETE FLOOR & DECK COATINGS
TEX•COTE®'s COOL-TEC® concrete and wood deck coating is a revolutionary patented infrared heat-reflective coating for restoring worn or weathered concrete and wood deck surfaces. COOL-TEC® can provide reduced surface temperatures of over 50° F* – providing a much cooler, slip-resistant walking surface that is barefoot friendly – even in darker colors. COOL-TEC® features an easy application and is available in over 570 heat-reflective colors.