When remodeling your bathroom, it's easy to get caught up in designing the vanity of countertops. An important element that often goes unnoticed is the windows! Today we'll look at the most popular bathroom windows and how they make a difference in the room. Usually, bathroom windows are quite small and placed high up on the wall. These small windows appear to be more of a design element and don't let in much light. The right ones will fill your bathroom with light, circulate air, and offer plenty of privacy.
Choose Energy-Efficient Windows
It's hard to motivate yourself to start your day when you walk into a chilly bathroom on a cold winter morning. Even if your bathroom includes small, out-of-sight windows, they still play a factor in the room's insulation. Choosing energy-efficient double plane windows will keep your space at a comfortable temperature year-round. Low-emissivity (or Low-E) coating will keep the bathroom cool during the summer and warm during the winter. Additionally, you'll see cost savings on your energy bills every month!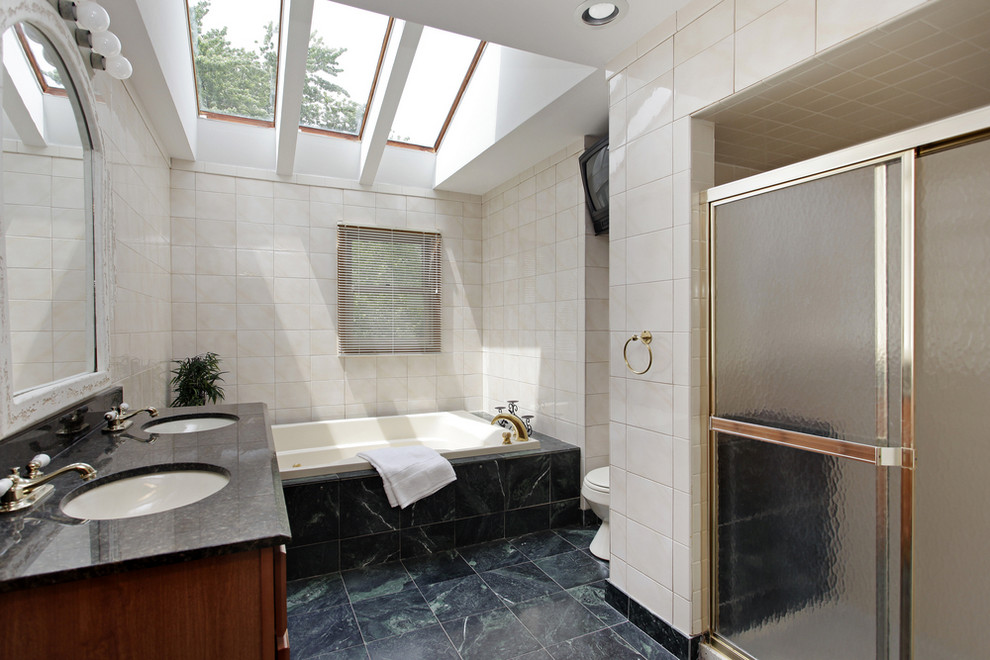 Window Styles We Recommend
While bedrooms typically have a limited number of good window options, bathrooms can include a wide variety of styles. You can get creative and mix and match different windows for the best results for your room. Below are some of the most popular bathroom windows we see in homes right now.
Privacy Glass: Don't want shades or curtains in your bathroom? Textured glass will allow light to shine in while still allowing privacy. They open and operate like any other traditional windows and can provide fresh and controlled airflow. There are a variety of glass options such as etched, frosted, obscure, opaque, and more.
Awning: Do you have a humid bathroom that steams up the mirrors quickly? Awning windows allow fresh air to circulate into the bathroom. They can be placed high up on the wall, allowing sunlight to enter while still offering plenty of privacy.
Geometric: Similar to awning windows, geometric windows can be placed high up on the wall. This ensures privacy while allowing in plenty of natural light. You can get creative with the shape and placement of the windows and mix and match them with other styles for great results!  
California Showcase Construction
These most popular bathroom windows are all great options if your space needs more sunlight and airflow. If you're not sure which window type is best for you, we can help! We'll look at factors such as the available space, humidity level, and outdoor environment to determine what the best options are for you. Feel free to call us at (951) 682-0208 or reach out to us by submitting a form on our website.